SOFTBALL PITCH RECOGNITION TRAINING APP
Face Top Level Fastpitch Pitchers.
The #1 Pitch Recognition &
Vision Training App
---
Fastpitch Softball Pitch Recognition Drills Streaming in Full HD
Every Pitch-Type, Every Pitch Location
Face Elite Level Pitching
Fastpitch Softball Vision Testing & Measurment
BDU COACHES & USERS OF OUR PITCH RECOGNITION APP HAVE BEEN FETURED IN THE FOLLOWING
Why Is Training Softball Pitch Recognition Skills So Important?
It helps to fine tine your hitting approach and achieve harder, more cosistent contact with the ball by simulating a week's worth of at-bats just in a single session.

We all know that if you can hit, you will always have a place on the lineup card. We also know that the #1 way to improve is to get quality reps that match the speeds, rhythms and tempos of an actual game.
Our Softball Pitch Recognition Training App gives you unlimited quality reps at game speed, while identifying and eliminating bad pitch recognition habits as a hitter.
Proof: HITTING IN SOFTBALL IS LIKELY MORE DIFFICULT THAN BASEBALL.

Sports Science has compared a top college softball pitcher's 70 mph fastball to the average 90 mph Major League fastball.
On average, a baseball is released approximately 60 feet 6 inches from home plate, resulting in a reaction time of roughly four-tenths of a second for the hitter to recognize spin, speed, and location as well as ball or strike.
By comparison, that 70 mph softball is released from an average distance of 37 feet from the plate (after the pitcher's stride out), resulting in 300 milliseconds of reaction time for the batter. In other words, a softball batter has 10% less time to react and make a correct decision.
Though pitches in baseball might be of a higher velocity, the shorter distance of the mound from home-plate makes it that much more crucial for a softball player to execute superior pitch recognition skills.

How Our SOFTBALL PITCH RECOGNITION APP WORKS

There's a BIG difference between good eyesight and effective eyesight.

A softball hitter's ability to identify moving objects in three dimensions.
Effective depth perception skills allow hitters to judge and anticipate ball speed as well as overall distance.
A hitter must be effective at using both eyes at the same time.
A hitter's eye-dilation speed is essentially the speed of eye-focus on moving objects that are located at various distances from the eyes and head.
In other words - how quickly the eyes dilate will affect the hitter's overall pitch recognition performance and ability to judge spin, speed, and location.
If hitting is about adjustments, the ability to summon past pitch-sequences will dictate the process of trial and error.
Another key tool in developing and refining visualization & recall is a hitter's ability to rehearse success.
Visual Tracking occurs when the hitter's eyes lock on a specific point of focus such as the spin, seams or pitch- plane of the ball soon after release.
The optic nerve transmutes visible information from the retina to the brain.

Relaxation is key in overall reaction time at the plate.
The better the hitter can achieve a "relaxed state" around the muscles of the eyes during the pitch recognition phases, the better the overall visual acuity.
How good a hitter is at swinging at where the ball will be once it hits the strike zone based on the information they collect from the ball at release point will dictate how consistent they are at predicting pitch location at the point of contact.
Good hitters don't swing at where the ball is, rather, they swing at where the ball will be.

SOFTBALL PITCH RECOGNITION TRAINING LIBRARY
Slide through to experience advanced pitch recognition drills, pitchers at various difficulty levels & softball training courses with top college coaches, NPF players & olympians.
Get immediate access to our full library of elite-level fastpitch softball pitchers.
With this softball pitch recognition training app, you can simulate live at-bats against pitchers who will work up, down, in and out with pitch types such as the riseball, dropball, curveball, screwball, fastball and various change-ups.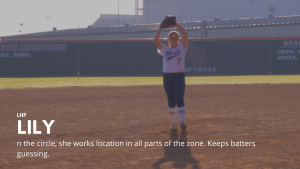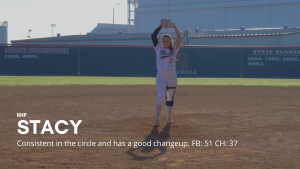 As a bonus to training your pitch recognition skills, you will get access to our Brick Dust University Training Modules.
Online Classes Taught By Softball's Greatest Minds.
Revolutionize your game with in-depth courses on power hitting, elite pitching, professional fielding, olympic catching, D1 slapping, the mental game, college recruiting, and much more.
Wanna Explore Applied Vision Softball?
FREE PITCH RECOGNITION TIPS!
Join The

Applied Vision Softball

Newsletter & Never Miss Another

Pitch Recognition Tip

!